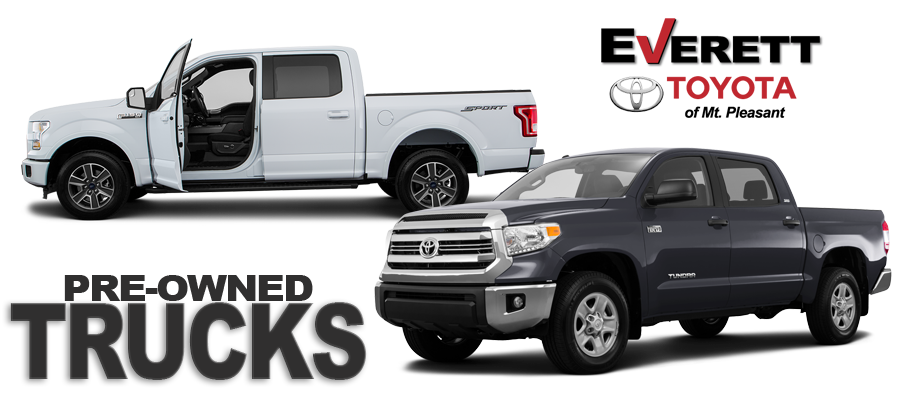 Used Trucks for Sale Near Mt. Pleasant, TX
We all know the famous saying: Everything's bigger in Texas. But what if that's not necessarily the case? Some things aren't better when they're bigger. Take trucks and prices, for example. You may want a big truck, but no one wants to pay the big price. At Toyota of Mt. Pleasant, we've recognized the fact that sometimes things aren't always better when bigger.
That's why our dealership provides shoppers with a pre-owned truck inventory. With big trucks at low prices, customers can have their cake and eat it too. There's no reason to pay more for a truck when you can get a slightly older model at a lower price.
Our dealership always tries to stock our used inventory with a wide range of trucks for customers to choose from. We usually feature regular cab, double cab, and crew cab trucks. If you've taken a look at our inventory and didn't find the truck you're looking for, contact us. We will be more than happy to search the area to try and find your dream truck for you at a low price.
If you'd prefer to speak to one of our associates in person regarding your requirements when seeking a used truck, feel free to stop by and see us. We are conveniently located at 102 Tankersley Road, Mt. Pleasant, TX 75455.
Truck Service Maintenance Centers at Toyota of Mt. Pleasant
Speaking of everything being bigger in Texas, why don't we continue debunking the myth? We offer low prices not only on our used truck inventory, but on our services as well. At Toyota of Mt. Pleasant, we're pleased to provide customers with a service department, where our well-trained technicians provide top-quality service for your maintenance and service needs.
As humans, we all have to make sure we eat healthy and take care of ourselves. The same is true for owning a vehicle. To make the most of our vehicles, as well as our life, it's important that we do as much as we can to make it last as long as possible.
Routine maintenance can be costly, and that's why we have service specials that customers can take advantage of. If you need an alignment check, oil change, flat tire repair, or more extensive repairs, we'll be able to assist you. Our service department works on vehicles from a variety of different manufacturers, so feel free to stop by today.
Don't hesitate to call us at (430) 808-2467 for sales questions. If you're seeking service, call (877) 932-8101. We'll provide quick service for you so that you can get back on the road to explore all the great things Texas has to offer.