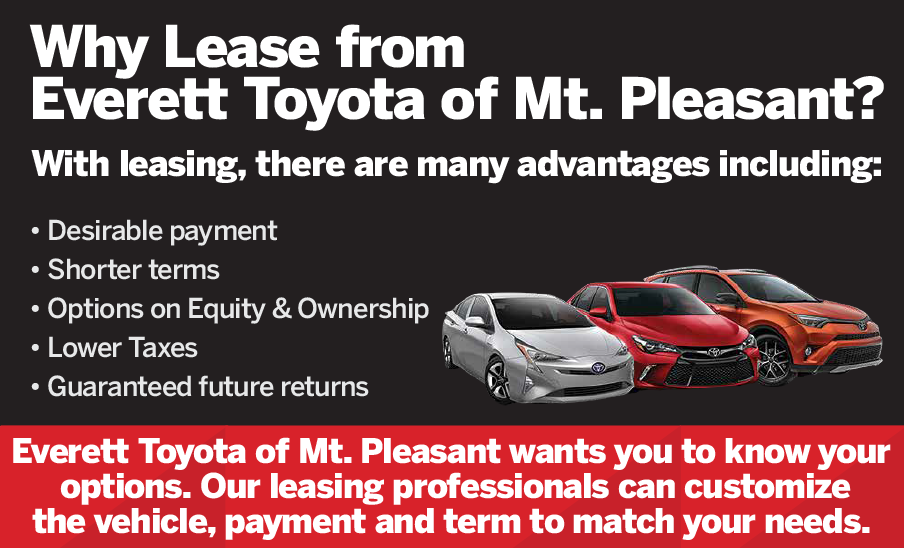 Toyota Lease Deals in Mt. Pleasant, TX
Are you in the market for a new Toyota vehicle? Well, Toyota of Mt. Pleasant is the perfect place for you! We offer various leasing deals to help you save money on a new Toyota vehicle. Are you located near Longview or Marshall, TX? Visit our Mt. Pleasant dealership today to take advantage of the amazing leasing options that we have available.
Why Lease a Toyota?
When you lease a vehicle, you have the ability to take advantage of multiple benefits. First off, the amount that you pay each month towards a leased vehicle is usually significantly less than the monthly payments for a car that you're purchasing. This gives you the ability to drive a new Toyota for a much lower price. Another benefit with leasing is that the contracts aren't permanent. This means that you can easily upgrade to the newer version of the model that you currently drive after it's been released. Leasing allows you to be up-to-date with the newest vehicle improvements.
Leasing a vehicle also comes in handy regarding servicing needs. With lease contracts, the car dealership agrees to take care of most of the vehicle's servicing needs. This takes the maintenance and repair burden away from you, saving you money on your Toyota's upkeep. Lease a new Toyota vehicle from Toyota of Mt. Pleasant and take advantage of the various benefits available to you. You can get started now by checking the leasing incentives offered at our Mt. Pleasant dealership.
Lease a Vehicle Near Greenville, TX
Have you decided that leasing is the best option for you? Take a look at our online inventory and decide which new Toyota vehicle you are interested in. Afterwards, contact a sales professional for more information about the lease deals available for that vehicle. You can complete a contact form, or call the sales department at (430)-625-4421. We look forward to assisting you with your Toyota Lease!